THE ROBIN HOOD RIFLES
A Report of Matches Held in 2017
The excitement has been almost too much to bear as we have had three very successful shoots in 2017.
Thorpe Cloud in September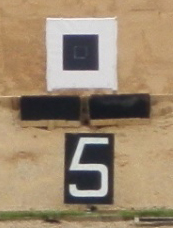 On Wednesday 13 Sept we held a one day event at Thorpe Cloud in Derbyshire. Despite challenging weather we had a great day shooting at scenario targets in the morning and the pattern 1860 target in the afternoon.
The scenario targets consist of three scenes on separate targets. Scene one depicts a gun team, scene two some soldiers partially concealed and scene three an advancing column of infantry. A point is scored for each soldier hit. Arms used are .577 Enfields at 200 yards. We shot at scenes one and two from the prone position and scene three standing. Andrew Russell scored the greatest number of hits and won the prize.
In the afternoon we shot at the 2ft square, 1860 pattern target, at 200, 300 and 400 yards. David Sillitoe and Frank Page both scored a very good 25 and the prize was awarded to Frank as he got the higher score at 400 yards. Both David and Frank were awarded "Sharpshooter Badges" as they achieved the designated 25 points to qualify for this award.
The Great Northern Match, Sprotbrough, September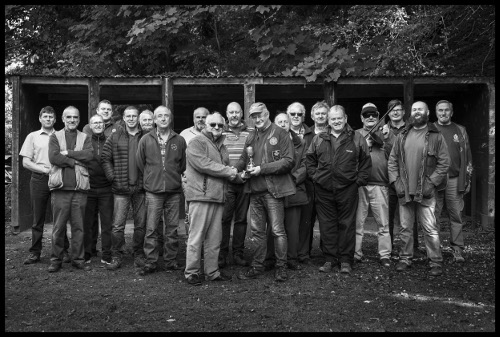 On Saturday 30 Sept we had the Great Northern Match at Sprotbrough near Doncaster. Dennis Chambers hosted the event and, as usual, it was very well organised and our thanks go to Dennis for being a star!
Teams of 7 representing Notts. and Yorks. shot Enfields at 100 yards with the best 6 scores counting as the team's score. The Notts. boys won with 507 points and the Yorks. team got 475. Special mention is made of Andy McBain (Notts.) who scored 95.
As it happens, most of those taking part were members of the Robin Hood Rifles, so I guess we should now refer to the teams as the Yorks. Company and the Notts. Company. On the day we recruited four more members for the RHR.
We are planning more range days in the months ahead and are devising further innovative targets and competitions, including "falling plates" which are ricochet proof!
Thorpe Cloud in October
Our second shoot held at Thorpe Cloud in Derbyshire, in October, was very successful with 13 members attending. The morning's competition involved shooting from the prone and standing positions at the "Soldier Scenario" targets at 200 yards. Frank Page won with a very impressive 7 points out of a possible 9. These are difficult targets to hit and Frank did very well indeed, being 2 points ahead of his nearest rival. The afternoon's match was shot at the 1860 pattern targets (a black 24" square on a white background). Targets were engaged at 200 yards and then 300yards. Mike Mott won with a score of 25 out of a possible 30 points. Bill Parnham also scored 25 but Mike Mott got the higher number of points at the longer range. The following, having scored the minimum 20 points required, were awarded "Sharpshooter Badges":–

| | |
| --- | --- |
| Mike Mott | 25 |
| Bill Parnham | 25 |
| Andy Wike | 22 |
| Michael Hunting | 21 |
Frank Page scored 22 but had previously been awarded his Sharpshooter Badge for his score in the September match.
We are currently planning matches for 2018, as well as focusing on attracting new recruits. If you are keen on shooting .577 Enfields at mid-range and would like to join please contact us at rhr.enquiries@gmail.com.
This report has also appeared in the MLAGB quarterly magazine "Black Powder" and we are grateful to the author for permission to include it here with the picture of the competitors at The Great Northern Shoot.